ZRator by D'ttach Front Mount Zero Turn Core Aerator Commercial Mower Attachment - ZR2432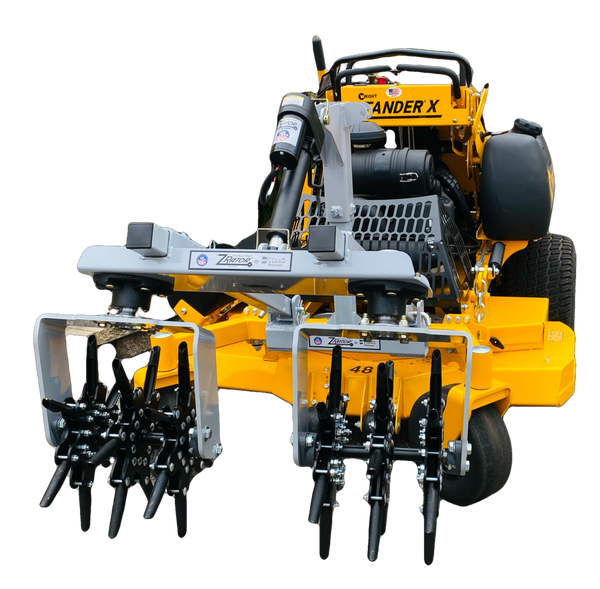 ZRator by D'ttach Front Mount Zero Turn Core Aerator Commercial Mower Attachment - ZR2432
IN STOCK & READY TO SHIP!
*This item ships via LTL Freight - Price includes Customer Pickup at Terminal up to $200 - Other delivery options are available at an additional cost.  You may contact us at sales@zrator.com or call 631-642-7445 with any questions. Shipping weight approx 240lbs   

ZRator by D'ttach includes a Heavy Duty, 2 arm, telescopic hitch for the ZRator attachment.  No additional hitch is required to purchase.
D'ttach Manufacturing is pleased to reintroduce ZRator by D'ttach ... the only Steerable front mount core plug aerator, designed to be used with most popular zero turn mowers.  Now you can multi-purpose the commercial mower that you already own and turn it into a stand on - zero turn aerator!
When lowering the aerator into the ground, the weight of the mower is transferred to the top of the tine clusters by raising the front wheels of the mower and off of the ground.  This patented design evenly transfers the weight of the mower turning the tine clusters into the caster wheels and allowing the ZRator to be truly zero turn aerator.  No additional weights are needed to gain maximum ground penetration.
When operating the ZRator front mount aerator attachment, you can proceed to aerate forward, turning left, turning right and even in reverse with the speed of your mower without ever needing to raise the tines out of the ground and providing up to 3" of ground penetration!
Non-stop, true core aeration translates to INCREASED PRODUCTIVITY & PROFITIBILITY while ELIMINATING OPERATOR FATIGUE!
AERATION WIDTH 26"

36 TINES

MECHANICAL LIFT FOR TRANSPORT

TRUE CORE AERATOR

PENETRATES UP TO 3" DEPTH

100% ZERO TURN MANUVERABILITY

AERATE AT SPEEDS UP TO 6-7 MPH

HEAVY DUTY 3/8" THICK FRONT CASTER FORKS

EASY ON-OFF MOUNTING

WEIGHT 205 LBS

ELECTRIC LIFT STANDARD