X-Blade Dual Mulching Blade Adapter Kit 3 Pk - 5/8" CH x 2.5" Wide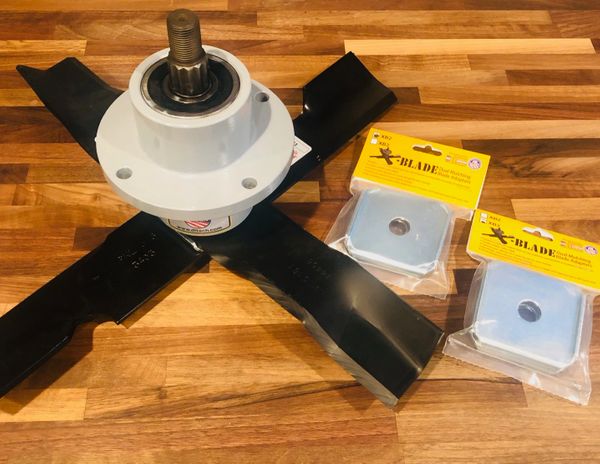 X-Blade Dual Mulching Blade Adapter Kit 3 Pk - 5/8" CH x 2.5" Wide
PROMO CODE X10 FOR 10% OFF!  TYPE  X10  UNDER PROMO UPON CHECKOUT.

3 Pack X-Blade adapter kit fits most 3 blade commercial mowers with blades that are 2 1/2" wide, .187-.204 (3/16) thick and with at 5/8" center hole.   X-Blade Dual Blade Adapters must be used on FLAT, COMMERCIAL MOWER BLADES. Will not work on Toro units with "lock plate" on spindle.  (Not for use on homeowner zero turns/mowers, blades longer than 21" or stamped-non flat blades). Deck size 48"-61" mowers. 
The X-Blade dual mulching blade adapters hold your original blade and an additional mulching blade (not included) at a perfect 90 degree angle.  Your original blade (lower) will give the clean height of cut, and the mulching blade (above), with multiple cutting edges, pulverizes the cut grass as it cycles through the deck chamber and this will dramatically reduce the size of the grass clippings. These adapters are made in America with precision tooling and accuracy keeping your blades at a perfect 90 degree angle and balanced. 
Fitment Requirements: Fits all standard commercial mower blades that are 2 1/2" wide, .187-.204" thick and have a 5/8" center hole.
Special Note: On mowers with Electric Clutch, it is recommended to power down the engine before you turn off the clutch to avoid wear on the internal brake in the clutch.


Proudly made in the USA.  This product ships Priority USPS
Common Questions & Answers
1) Are these hard on the unit? Extra weight on spindle, belts, engine?
The X-Blade Adapter Kit and added blades (not included) are not hard on the mower and have not posed a danger of damaging the mower.  As long as the machine is properly maintained and running at the proper RPMS, which should be a minimum of 3450, and the governor is working to its optimum potential, there is not any reason the machine would preform any differently with the added use of the X-Blade adapters and added blades.  Keep in mind, if a mower is struggling to cut grass properly before adding the X-Blade adapters & added blades, the addition of this set up will not improve the mowers quality of cut.  Obviously, the addition of the X-Blade Adapters and added blades will add some stress to belts and engine, but not enough to cause damage to machine or engine. Environmental elements are what damage spindles (wet grass, dirt, heat and poor maintenance), not perfectly machined, balanced and angled adapters.  Additionally, we have gotten endorsement from a major commercial mower brand that these X-Blade Dual Mulching Blade Adapters do not void the spindle warranty nor impose any belt or engine strain that would be of any worry or concern.
2)  Do customers run these adapters year around or just in the "mulching" season?
It's a matter of preference when it comes to how customers use the X-Blade Dual Mulching Blade Adapters & added blades.  The use of  the X-Blade adapter setup is to reduce the clipping size and volume amount of grass clippings, whether you are collecting or dispersing.  In some areas that "bag" or catch the clippings, the use of the X-Blade setup greatly reduces volume size within the catcher, allowing for more clippings to fit in a catcher .  Also, if "bagging" clippings, the use of the X-Blade set up creates more of a vacuum for better collection.  If a customer prefers to mulch, the use of the X-Blade Dual Mulching Blade Adapters and added blades will greatly reduce the size of grass clippings, pulverizing the cut grass as it cycles through the deck chamber, eliminating the need to double cut.
3) Do the stock length blade bolts work with the use of X-Blade Adapters?
The stock length blade bolts will work in most instances.  The addition of the X-Blade set up will lower the height of cut by 1/4".  Most commercial mowers have anywhere from 2-5, 1/4" spacers above the original blade.  We recommend removing one spacer and putting it on top of the spindle which will give you the original height of cut.  Scag mowers (V-Ride & Zero Turn) , however, use one thick spacer which is 2 1/4" and they use a 9 1/2" blade bolt.  In this application, or any similar application, we recommend replacing the blade bolt with a longer one so that the nut is completely torqued to the full length of the bolt.
It is common sense that if you install and retorque bolts, whether internally threaded or through spindle bolts, it is necessary to make sure there is full thread coverage and the blade bolt and nut are flush.  A longer blade bolt will be necessary to achieve this in some instances.
4)  Can you also use mulching blades in this system?

 Yes, as a matter of fact, X-Blade Dual Mulching Blade Adapter Kits were designed for the use of mulching blades.  It is recommended to use a mulching blade (top blade) above your normal OEM blade (bottom blade).  This combination creates multiple cutting edges which will achieve the optimum mulching blade experience, pulverizing and dispersing grass clippings with ease.
5)  Is there a way to cross reference blade numbers with model or deck sizes? How would a regular person know exactly what blades he/she has?
Unfortunately, it is pretty much impossible to cross reference the listed blade numbers with the mower "models" that they correspond to.   It is important to understand that the existing blade and mulching blade be 2 1/2" WIDE, .187" - .204" (3/16") THICK, 5/8" CENTER HOLE (the length of the blade does not make a difference).  THIS IS THE MOST COMMON COMMERCIAL BLADE WIDTH/THICKNESS/CENTER HOLE SIZE.  You might need to measure your existing blade to confirm that it is not more or less than 2 1/2" wide and 3/16" thick.  If you use a 15/16" wrench to remove/install blades, you have a 5/8" center hole.  You can always contact Tech support before ordering to confirm proper fit.  631-566-6085
X-BLADE ADAPTERS FIT THE FOLLOWING BLADES:

BadBoy 038-606-00, 038-5350-00, 038300000, 038-6080-00,  5208425, 038-7220-00, 340-190, 038-0003-00, 038-4827-00, 038-5000-00, 038-5350-00, 038-5350-0050, 038-6003-00, 038605000, 038-0005-00, 038-5350-00, 038-6080-00, 038-4221-00, 038-4226-00
Bobcat Ransomes 112111-01, 112111-02, 11243-02, 32022, 32061, 32061A, 112111-02
Bunton - Goodall PL4055, P2005, PL4206, PL4855, PC005, PL4206, 11211102, 32022A, PC005, PL4205, PL4855
Dixie Chopper 30227-52X, 30227-52T, 30227-H, 30227-50, 30227-50V, 30227-60, 30227-60V, 30227-42, 63227-H, 63227-N
Dixon Industries 539129743, 9258, 9265, 12421, 13956, 539119871, 5391129747, 539129775, 9383, 539126431
Encore 483035, 363291, 363291
Exmark 103-2530, 103-2530-S, 103-2529-S, 103-2529S, 653101, 1-613112, 103-0301-S, 613112, 103-6582-S, 103-6584-S, 633484, 1-303146, 103-6584, 303146, 633482, 1-402086, 1-403059, 1-403148, 103-2527, 402086, 403026, 403059, 403086, 1-613112, 103-0301-S, 613112, 103-2519-S, 653102, 103-2529-S, 103-2529S, 653101, 1-323515, 103-6583-S, 323515, 103-2529-S, 653101, 1-403086, 1-403148, 103-2517, 103-6581, 103-6581-S, 103-2510, 103-2510-S
Ferris 1520843, 5020843, 1521227, 5021227, 1520842, 5020842, 5021227S, 5101756, 15208425, 5020842, 5020842S, 5101755, 5208425, 1520843S
Gravely 00450300, 0450300, 04916400, 0494500, 00450200, 0450200, 03253800, GDU10230, 00878100, GDU10231, 00450300, 03253800, 0450300, 046998, 052928, 087792, 0877920, 08779251, 0886680, 08866851, 46998, 52928, 87792, 8779200, 8779251, 8866800, 8866851, 046999, 052929, 08866900, 08979600, 08979651, 46999, 52929, 886690, 89796, 8979600, 8979651, 02961600
Great Dane D18037, C39949, D18086
Husqvarna 539-10-17-33, 539-105711, 105476, 581055501, 539100-340, 581055501, 539-100340
Hustler 484256, 603992, 795252, 785428, 603995, 783753, 795526, 793802, 601124, 797696, 795757, 794230, 797704, 796623, 795633
John Deere AM104489, PT8721, AM10489, TCU34166
Lesco 50170, 021871, 21871, 021871, 050125, 050170, 050156, 050140, 50125, 50140
Sabo SA31853, 31853
Sarlo 151, 1513-24
Scag A48110, 48110, 481706, 482461, 482877, A48108, 48108, 481707, 482462, 482878, A48111, 481708, 482879, A48109, 48109, 482129, 48112, 481709, 482882, 481711, 48185, 482467, A48111, A48184, 482235, 482724, 482961, 483317, 482237, 482693, 482693, 483318
Snapper / Kees 5021227, 5021227ASM, 5101756, 5101756SYP, 5101755, 5101755BMYP, 1756152AYP, 1756152SYP, 29246, 7075751, 17037, 363055, 363245, 76450, 77344, 77344, 7075751, 7075751BZ, 7075751BZYP, 483011, 76675, 7-7378, 7017036
Toro 105-7781, 105-7718-03, 133-2127, 105-7781,03, 107-3196-03, 133-2137, 133-2134, 105-7779-03, 107-3195-03, 107-3196-03, 105-877, 105-877-03, 133-2137, 126-8142, 55-4940, 57-4700, 54-0010-03, 14-7799, 79-3061, 88-5140-03, 92-7952, 54-0010, 54-0010-03, 92-7952-03
Winsor 50-2146, 50-4209, 50-2814, 50-2140, 50-2146, 50-4215, 50-1933, 50-2585, 50-2205, 50-2295, 50-1900, 50-1905, 50-1940, 50-2148, 50-2295, 50-4215, 50-3160, 50-4215, 50-2225, 50-3435, 50-1885, 50-3065, 50-2160, 50-4385, 50-2810, 50-2145, 51-2240, 51-2305, 51-1935, 51-1940, 50-2095, 51-2090, 51-2096, 51-3165, 51-3170, 51-3171, 51-1910, 51-1915, 50-4780, 51-2800, 51-2805, 50-3985, 50-2625, 51-1595, 50-1946, 50-4070, 50-4065, 50-1920, 51-3425, 51-1795, 50-4220, 50-4211, 55-4940 
Wright 71440005, 71440004, 71440009-0, 71440002, 71440001, 71440003, 71490002, 71490003, 71490001, 71440008
Rotary Blades 3393, 3395, 3441, 6088, 6118, 6135, 6184, 6231, 6326, 9885, 10249, 6020, 10071, 10172, 10173, 10174, 10175, 10371, 10419, 10420, 10667, 10718, 10719, 10720, 10973, 11557, 11810, 11856, 3373, 3374, 3400, 3401, 3403, 3404, 3434, 6008, 6014, 6026, 6115, 6116, 6141, 6183, 6222, 6224, 6290, 6291, 6294, 6296, 6298, 6299, 6300, 6303, 6316, 6472, 6500, 6820, 6821, 7010, 9229, 9230, 9487, 9883, 9884, 9988, 13016, 13975, 13976, 13977, 13623, 14436, 14458, 15112, 15189, 15188, 15094, 15095, 15096, 15081, 15084
Stens 355-121, 330-149, 335-168, 302-616, 302-612, 302-617, 302-618, 302-620, 302-624, 310-110, 330-188, 340-104, 340-109, 340-400, 340-464, 340-468, 340-474, 345-235, 350-181, 350-225, 350-683, 350-695, 350-691, 355-044, 355-085, 355-105, 355-121, 310-003, 345-165