ZRator by D'ttach for Toro MultiForce* Front Mount Zero Turn Core Aerator Attachment - ZRTMF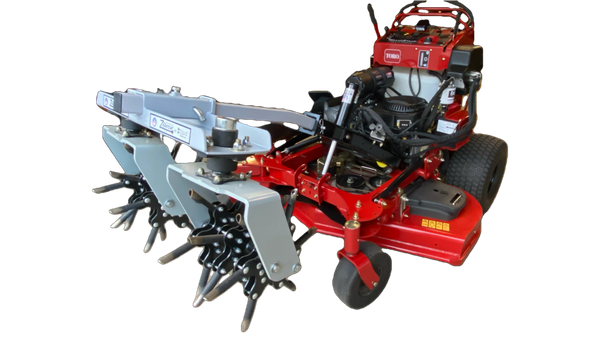 ZRator by D'ttach for Toro MultiForce* Front Mount Zero Turn Core Aerator Attachment - ZRTMF
This item ships via YRC Freight - Price includes Customer Pickup at YRC Terminal up to $200 - Other delivery options are available at an additional cost.  You may contact us at sales@zrator.com or call 631-642-7445 with any questions.  Shipping weight 190lbs. 
Introducing Spring 2021 ZRator by D'ttach for the Toro MultiForce Grandstand!  If you own a Toro Multi Force Grandstand with Low Flow Hydraulic Kit, lawn aeration just got easier & faster!  No need to purchase a dedicated aerator that requires engine maintenance.  Simply install the ZRator for MultiForce into the front mount hitch and hydro's and you instantly have a stand on aerator that allows you to zero turn aerate, pulling TRUE CORE PLUGS at the speed of your unit!  No more user fatigue and get MORE jobs done FASTER!  
*Must have Toro Low Flow Hydraulic Kit , call for details if you do not have a Toro MF Low Flow Kit - other ZRator options are available!
All D'ttach Mfg Products are Proudly Made in USA!