2.5" W x 5/8" CH (2pk) X-Blade Dual Mulching Blade Adapter Kit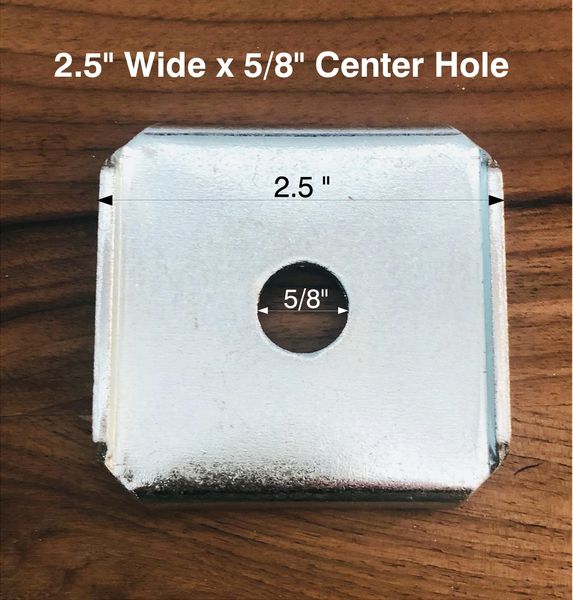 2.5" W x 5/8" CH (2pk) X-Blade Dual Mulching Blade Adapter Kit
2 Pack X-Blade adapter kit fits most 2 blade commercial mowers with blades that are 2 1/2 wide, .187-.204 (3/16) thick and with a 5/8 center hole.  X-Blade Dual Blade Adapters must be used on FLAT, COMMERCIAL MOWER BLADES. Will not work on Toro units with "lock plate" on spindle. (Not for use on homeowner mowers, blades longer than 21" or stamped-non flat blades).  Deck size 32-42" mowers 
The X-Blade dual mulching blade adapters hold your original blade and an additional mulching blade (not included) at a perfect 90 degree angle.  Your original blade (lower) will give the clean height of cut, and the mulching blade (above), with multiple cutting edges, pulverizes the cut grass as it cycles through the deck chamber and this will dramatically reduce the size of the grass clippings.  These adapters are made in America with precision tooling and accuracy keeping your blades at a perfect 90 degree angle and balanced.  
PN: XB2
Fitment Requirements:  Fits all standard commercial mower blades that are 2 1/2" wide, .187-.204" (3/16) thick and have a 5/8" center hole.
Special Note:  On mowers with an Electric Clutch,  it is recommended to power down the engine before you turn off the clutch to avoid wear on the internal break in the clutch. 
Proudly made in the USA.  This product ships Priority USPS.  Please provide postal address.
Shipping Weight:  .56 ea pack


X-BLADE ADAPTERS FIT THE FOLLOWING BLADES:

BadBoy 038-606-00, 038-5350-00, 038300000, 038-6080-00,  5208425, 038-7220-00, 340-190, 038-0003-00, 038-4827-00, 038-5000-00, 038-5350-00, 038-5350-0050, 038-6003-00, 038605000, 038-0005-00, 038-5350-00, 038-6080-00, 038-4221-00, 038-4226-00
Bobcat Ransomes 112111-01, 112111-02, 11243-02, 32022, 32061, 32061A, 112111-02
Bunton - Goodall PL4055, P2005, PL4206, PL4855, PC005, PL4206, 11211102, 32022A, PC005, PL4205, PL4855
Dixie Chopper 30227-52X, 30227-52T, 30227-H, 30227-50, 30227-50V, 30227-60, 30227-60V, 30227-42, 63227-H, 63227-N
Dixon Industries 539129743, 9258, 9265, 12421, 13956, 539119871, 5391129747, 539129775, 9383, 539126431
Encore 483035, 363291, 363291
Exmark 103-2530, 103-2530-S, 103-2529-S, 103-2529S, 653101, 1-613112, 103-0301-S, 613112, 103-6582-S, 103-6584-S, 633484, 1-303146, 103-6584, 303146, 633482, 1-402086, 1-403059, 1-403148, 103-2527, 402086, 403026, 403059, 403086, 1-613112, 103-0301-S, 613112, 103-2519-S, 653102, 103-2529-S, 103-2529S, 653101, 1-323515, 103-6583-S, 323515, 103-2529-S, 653101, 1-403086, 1-403148, 103-2517, 103-6581, 103-6581-S, 103-2510, 103-2510-S
Ferris 1520843, 5020843, 1521227, 5021227, 1520842, 5020842, 5021227S, 5101756, 15208425, 5020842, 5020842S, 5101755, 5208425, 1520843S
Gravely 00450300, 0450300, 04916400, 0494500, 00450200, 0450200, 03253800, GDU10230, 00878100, GDU10231, 00450300, 03253800, 0450300, 046998, 052928, 087792, 0877920, 08779251, 0886680, 08866851, 46998, 52928, 87792, 8779200, 8779251, 8866800, 8866851, 046999, 052929, 08866900, 08979600, 08979651, 46999, 52929, 886690, 89796, 8979600, 8979651, 02961600
Great Dane D18037, C39949, D18086
Husqvarna 539-10-17-33, 539-105711, 105476, 581055501, 539100-340, 581055501, 539-100340
Hustler 484256, 603992, 795252, 785428, 603995, 783753, 795526, 793802, 601124, 797696, 795757, 794230, 797704, 796623, 795633
John Deere AM104489, PT8721, AM10489, TCU34166
Lesco 50170, 021871, 21871, 021871, 050125, 050170, 050156, 050140, 50125, 50140
Sabo SA31853, 31853
Sarlo 151, 1513-24
Scag A48110, 48110, 481706, 482461, 482877, A48108, 48108, 481707, 482462, 482878, A48111, 481708, 482879, A48109, 48109, 482129, 48112, 481709, 482882, 481711, 48185, 482467, A48111, A48184, 482235, 482724, 482961, 483317, 482237, 482693, 482693, 483318
Snapper / Kees 5021227, 5021227ASM, 5101756, 5101756SYP, 5101755, 5101755BMYP, 1756152AYP, 1756152SYP, 29246, 7075751, 17037, 363055, 363245, 76450, 77344, 77344, 7075751, 7075751BZ, 7075751BZYP, 483011, 76675, 7-7378, 7017036
Toro 105-7781, 105-7718-03, 133-2127, 105-7781,03, 107-3196-03, 133-2137, 133-2134, 105-7779-03, 107-3195-03, 107-3196-03, 105-877, 105-877-03, 133-2137, 126-8142, 55-4940, 57-4700, 54-0010-03, 14-7799, 79-3061, 88-5140-03, 92-7952, 54-0010, 54-0010-03, 92-7952-03
Winsor 50-2146, 50-4209, 50-2814, 50-2140, 50-2146, 50-4215, 50-1933, 50-2585, 50-2205, 50-2295, 50-1900, 50-1905, 50-1940, 50-2148, 50-2295, 50-4215, 50-3160, 50-4215, 50-2225, 50-3435, 50-1885, 50-3065, 50-2160, 50-4385, 50-2810, 50-2145, 51-2240, 51-2305, 51-1935, 51-1940, 50-2095, 51-2090, 51-2096, 51-3165, 51-3170, 51-3171, 51-1910, 51-1915, 50-4780, 51-2800, 51-2805, 50-3985, 50-2625, 51-1595, 50-1946, 50-4070, 50-4065, 50-1920, 51-3425, 51-1795, 50-4220, 50-4211, 55-4940 

Wright 71440005, 71440004, 71440009-0, 71440002, 71440001, 71440003, 71490002, 71490003, 71490001, 71440008
Rotary Blades 3393, 3395, 3441, 6088, 6118, 6135, 6184, 6231, 6326, 9885, 10249, 6020, 10071, 10172, 10173, 10174, 10175, 10371, 10419, 10420, 10667, 10718, 10719, 10720, 10973, 11557, 11810, 11856, 3373, 3374, 3400, 3401, 3403, 3404, 3434, 6008, 6014, 6026, 6115, 6116, 6141, 6183, 6222, 6224, 6290, 6291, 6294, 6296, 6298, 6299, 6300, 6303, 6316, 6472, 6500, 6820, 6821, 7010, 9229, 9230, 9487, 9883, 9884, 9988, 13016, 13975, 13976, 13977, 13623, 14436, 14458, 15112, 15189, 15188, 15094, 15095, 15096, 15081, 15084
Stens 355-121, 330-149, 335-168, 302-616, 302-612, 302-617, 302-618, 302-620, 302-624, 310-110, 330-188, 340-104, 340-109, 340-400, 340-464, 340-468, 340-474, 345-235, 350-181, 350-225, 350-683, 350-695, 350-691, 355-044, 355-085, 355-105, 355-121, 310-003, 345-165