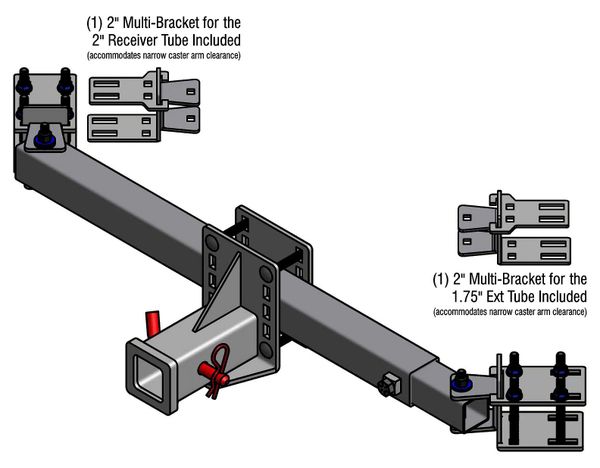 DTHLG-UNI+2
Telescopic Cross Bar Large Kit for Scag Zero Turn Large Deck Mowers. 
Our patent pending telescopic hitch bar DTHLG-UNI+2 expands across caster wheel arms from 31" to 44".  This kit includes (2) 3" Caster Arm Multi-Brackets & (2) 2" Caster Arm Multi-Brackets.
KIT INCLUDES TELESCOPIC CROSS BAR, CASTER WHEEL ARM BRACKETS, 2" D'TTACH FRONT MOUNT HITCH ASSEMBLY, MOUNTING HARDWARE AND HITCH PIN.  

D'ttach Front Mount Mower Hitch System .... One easy to install hitch will accommodate all of our D'ttach attachments and KartMate products!  The recommended installation is 13"-14" to center of hitch in order for proper use with D'ttach Commercial Mower Attachments & Kart Mate.
Shipping Weight:  31lb
This hitch fits the following mowers:  52" Scag Turf Tiger II, 61" Scag Turf Tiger II, 72" Scag Turf Tiger II, 61" Scag Cheetah, 72" Scag Cheetah