John Deere 900 Series (3pk) X-Blade Dual Mulching Blade Adapter Kit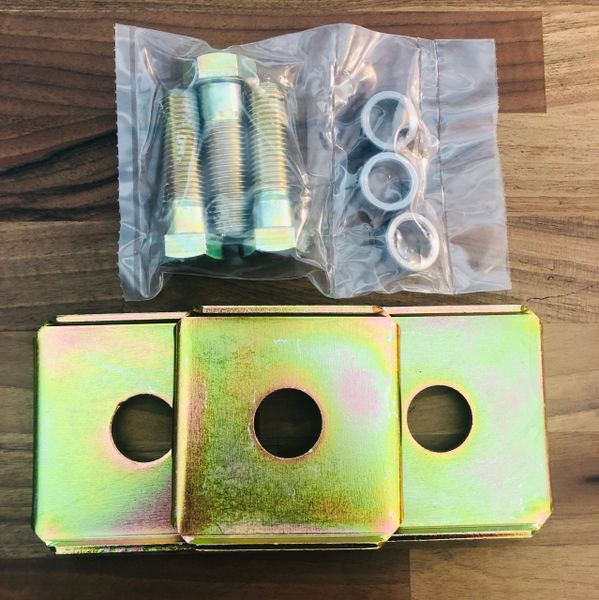 John Deere 900 Series (3pk) X-Blade Dual Mulching Blade Adapter Kit
3 Pack X-Blade XBJD adapter kit fits John Deere 900 Series commercial mower blades that are 3" wide, 1/4" thick and with a 15/16 - .904 center hole.  Each kit includes (3) 3" W x 15/16" CH X-Blade Adapters, (3) Reducing Bushings & (3) Blade Bolts M16 x 2.0mm x 55mm.  This set up will properly allow you to add a second blade to your John Deere, reduce the size of the center hole of the second blade so that it is not loose and then properly fasten the X-Blade set up with the longer bolt allowing the necessary thread coverage.  
The X-Blade dual mulching blade adapters hold your original blade and an additional mulching blade (not included) at a perfect 90 degree angle.  Your original blade (lower) will give the clean height of cut and the mulching blade (above), with multiple cutting edges, pulverize the cut grass as it cycles through the deck chamber and this will dramatically reduce the size of the grass clippings.  These adapters are made in America with precision tooling and accuracy keeping your blades at a perfect 90 degree angle and perfectly balanced.  
John Deere X-Blade Dual Mulching Blade Adapters must be used on COMMERCIAL MOWER BLADES that are not stamped.  (Not for use on homeowner zeroturn/mowers, blades longer than 24" or stamped-nonflat blades. Deck size 48"-72" mowers.
PN: XBJD
Fitment Requirements - Notice: Fits most standard commercial mower blades that are 3" wide, .187-.250 thick and have a 5/8 or 15/16" center hole.  It is recommeded to replace blade bolt with longer bolt to insure optimum therad coverage.  Only use adapters if blade bolt is the proper size of bothe mower blade center hole.  Do not use adapter if second blade center hole is too large to accommodate the bolt.  This will result in running a loose second blade, potentially causing damage and/or harm.  If the second blade is loose due to center hole size, a reducing bushing will be required.
Special Note:  On mowers with Electric Clutch, it is recommended to power down the engine before your turn off the clutch to avoid wear on the internal brake in the clutch.
Proudly made in the USA.  This product ships Priority USPS, please provide postal service delivery address. 
Shipping Weight:  2lb ea pack