D'ttach "U" Shape Dethatcher Tine / Walker 6610 Starting at $9.75ea (Choose Quantity in Drop Down)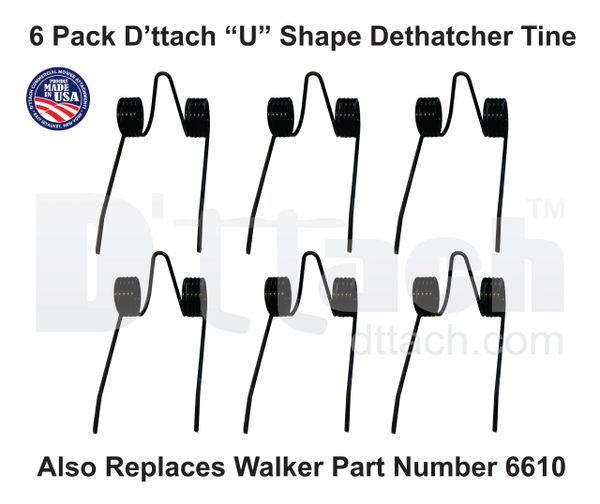 D'ttach "U" Shape Dethatcher Tine / Walker 6610 Starting at $9.75ea (Choose Quantity in Drop Down)
Heavy duty "U" shaped D'ttach / Walker spring tine replacement spring.  Fits D'ttach Part Number 69860001 and Walker Part Number 6610 spring tine dethatchers. These tines are heavier gauge wire with a larger diameter loop and redesigned "U" mounting crotch as apposed to a "V" shape design.  With these upgrades, the D'ttach "U' shaped dethatcher springs have been designed to last twice as long as Walker Part Number 6610.  

Proudly made in the USA.  

This item has a multi-quantity discount.  Please see discount in drop down menu.
D'ttach DT134 has 14 spring tines.
D'ttach DT140 has 16 spring tines.
D'ttach DT146 has 18 spring tines.
D'ttach DT152 has 20 spring tines.