46" D'ttach Front Mount Spring Tine Dethatcher Rake Commercial Mower Attachment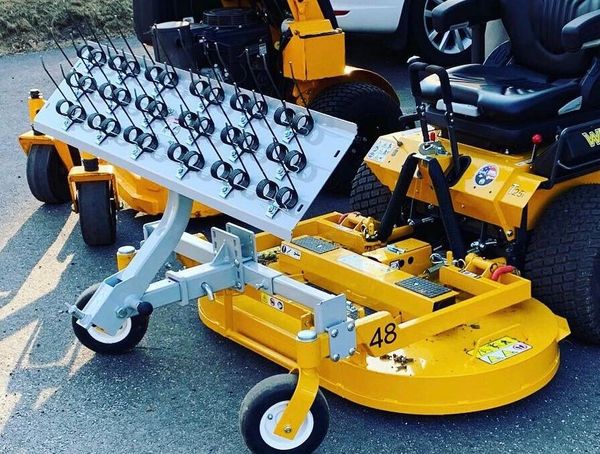 46" D'ttach Front Mount Spring Tine Dethatcher Rake Commercial Mower Attachment
D'ttach Commercial Mower DT Series 46 inch Heavy Duty Front Mount Spring Tine Dethatcher Attachment (hitch not included).

46" Dethatcher Rake is recommended for a 48" commercial mower deck size. 
The D'ttach DT Series Front Mount Sprint Tine Dethatacher is available in four sizes to accommodate most commercial mowers.  It is recommended that the dethatcher size be less than that of the mower deck size to insure proper bagging. The D'ttach DT Series rake is a manual lift and lower dethatcher utilizing a "pop pin" to lock into the up position.  Our attachments require the front mount hitch to be installed 13" to center of hitch opening for proper use.  Each DT Series Front Mount Spring Tine Dethatcher has a "wing bolt" adjustment.  This allows you to "dial" into a precise desired height for the tines to correctly engage and disengage for proper dethatching without the need for wheels.  There is an optional wheel kit assembly available for all rake sizes if so desired.    
Once a D'ttach Front Mount Hitch assembly (sold separately) is installed onto your commercial machine, all D'ttach Commercial Mower Front Mount Hitches are available to fit most commercial mowers, please reference the "D'ttach Commercial Mower Front Mount Hitch" tab to see available hitch fitments.  
The D'ttach DT Series Front Mount Sprint Tine Dethatcher can be used throughout the growing season as a professional grade tool to control thatch build up and reduce the chance of turf grass disease.  Our dethatcher attachements are constructed with heavy duty "U" shaped spring tines that lift embedded leaves, twigs and thatch with ease without damaging healthy grass.  It also combs matted grass, leaving the lawn with a clean, raked and manicured look.  Also  perfect for clean up season, fall renovations and seeding operations to sow seeds and help accelerate germination.
Shipping Weight 47lbs
All D'ttach Mfg products are Proudly Made in the USA!