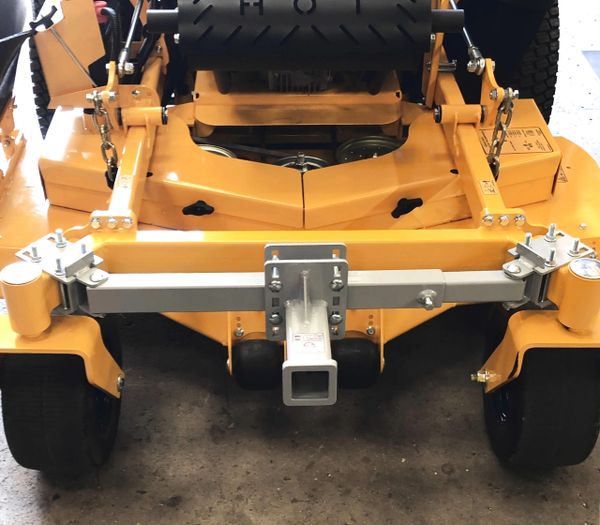 DTHLG-UNI
TELESCOPIC CROSSBAR, APPLICABLE IF YOUR MACHINE DOES NOT HAVE A CASTER WHEEL CROSS MEMBER BAR. PLEASE MEASURE THE DISTANCE BETWEEN YOUR MOWERS CASTER WHEEL ARMS.  THIS KIT SPANS 31" - 44", THERE IS A SMALL KIT AND MEDIUM KIT FOR DIFFERENT SIZED MOWERS.
Our patent pending telescopic hitch bar DTHLF-UNI expands across caster wheel arms from 31" to 44".
KIT INCLUDES TELESCOPIC CROSS BAR, CASTER WHEEL ARM BRACKETS, 2" D'TTACH FRONT MOUNT HITCH ASSEMBLY, MOUNTING HARDWARE AND HITCH PIN.
D'ttach Front Mount Mower Hitch System ... One easy to install hitch can accommodate all of our D'ttach attachments and KartMate products!  The recommended installation is 13"-14" to center of hitch in order for proper use with D'ttach Commercial Mower Attachments & Kart Mate. 
Shipping Weight:  27lb
All D'ttach Mfg products are Proudly Made in the USA!

This hitch fits the following mowers:  61" Bobcat Predator Pro, 72" Bobcat Predator Pro, 61" Bobcat Pro Cat 6000MX, 52" Bobcat Pro Cat 6000, 61" Bobcat Pro Cat 6000, 52" Bobcat Pro Cat 5000, 61" Bobcat Pro Cat 5000, 61" Bobcat XRZ Pro, 61" Bobcat XRZ, 61" Bobcat CRZ, 60" Big Dog Diablo, 72" Big Dog Diablo, 60" Big Dog Trooper, 60" Cub Cadet Pro Z560, 60" Cub Cadet Pro Z760, 72" Cub Cadet Pro Z772, 60" Cub Cadet Pro Z960, 72" Cub Cadet Pro Z972, 60" Cub Cadet Pro X660, 60" Encore Rage, 60" Exmark Vantage, 60" Gravely Pro Stance, 52" Gravely Pro Turn 400, 60" Gravely Pro Turn 400, 72" Gravely Pro Turn 400, 52" Gravely Pro Turn 200, 60" Gravely Pro Turn 200, 72" Gravely Pro Turn 200, 60" Gravely Pro Turn Mach 1, 60" Gravely Pro Turn Z, 60" Gravely Pro Turn ZX, 60" Gravely ZT HD, 60" Husqvarna Z560, 72" Husqvarna Z572, 60" Hustler Super Z, 60" Hustler Super Z Hyper Drive, 66" Hustler Super Z, 66" Hustler Super Z Hyper Drive, 72" Hustler Super Z, 72" Hustler Super Z Hyper Drive, 60" Hustler Trimstar, 60" Hustler Z Diesel, 72" Hustler Z Diesel, 60" John Deere 700 Series, 60" Kubota Z700, 60" Redmax CZT, 72" Redmax CZT, 52" Scag V-Ride I, 61" Scag  V-Ride I, 61" Scag V-Ride 2, 61" Scag SWZT, 61" Spartan RT, 61" Spartan SRT, 61" Wright Sport X, 61" Wright ZTO, 61" Wright MMZ,